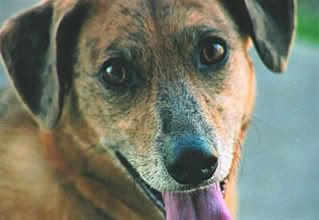 Ballou, one of our two dogs, passed away around 1:30 a.m. Monday. She started having trouble breathing around 1 a.m. or so and went downhill quickly. She's been with us for 11 years (she would have been 12 in September). She was Violet's dog first (she brought her into our marriage), but I was with Violet when she picked her out, so she's been my dog all that time, too.
She was what we term a "pressage dog," meaning if you were laying down and she hopped up on the bed and pressed against you it was the best feeling in the world. She would stretch out and press against you with just the right amount of force to make it irresistible.
Since we don't have any children yet, Ballou and Hot Rod have been our children, so her passing has been pretty hard. We will miss her terribly.
Kevin
UPDATE: Thank you all for your kind words. What Kevin wrote was wonderful. I always said I would take the death of my dog hard, and I even outdid my expectations. I have changed the photo with my favorite photo of Ballou. Bless you all. Violet